>
>
>
>
NASA 2019 Early Career Public Service Medal Awardee: Megan Johnson
NASA 2019 Early Career Public Service Medal Awardee: Megan Johnson
November 18, 2019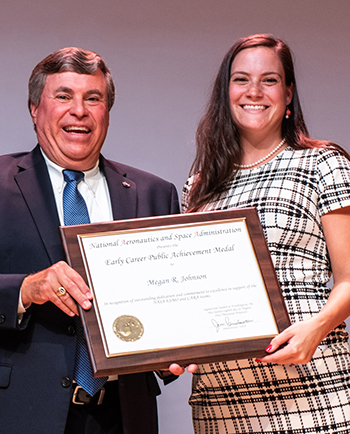 University of Maryland alumnae (2011), Megan Johnson was recently awarded a NASA Early Career Public Service Medal. This prestigious NASA medal is awarded to any non-government employee for unusual and significant performance during the first 10 years of an individual's career in support of the agency. Performance is characterized by unusual initiative or a creative achievement that clearly demonstrates a significant contribution in the individual's discipline area that directly contributes to NASA's mission and goals. The contribution is significant, in that, for an employee who is at such an early phase of career, the contribution has substantially improved the discipline area.
Megan is recognized for her excellence in training, communications, and leadership in NASA Goddard Space Flight Center's Robotic Conjunction Assessment and Risk Analysis (CARA) operations. She exemplifies all the qualities of a dedicated professional and is a true asset to NASA.
"I'm humbled to have been awarded the Early Career Public Service Medal, and I'm indebted to my team for their dedication and hard work. I'm also especially grateful to my customer for nominating me. It's truly an honor leading the [CARA] team and supporting NASA's mission," says Megan.
From a young age Megan Johnson was interested in space. This lifelong fascination helped her in deciding to pursue a double major in Astronomy and Physics at the University of Maryland in College Park. Most of her coursework revolved around learning about space through physics equations, which involved problem sets, math, and lab work. Megan even took a class about Mayan Astronomy that gave her a different viewpoint in the way the night sky shaped the Mayan culture and religion.
One event that Megan recalls from her college years that paved the way for her career in space was a press conference held for Hubble Space Telescope (HST) images that were taken after the spacecraft was updated with new instruments in 2009. The Hubble Deep Field image reveal was breathtaking, and she had the opportunity to meet the astronauts responsible for the work done to update the HST with the new equipment. She was awed and inspired knowing they helped provide 10+ more years of groundbreaking imagery.
"College taught me a lot about the importance of working together to solve problems," stated Megan. The ability to collaborate with her fellow students discussing tough concepts around topics such as quantum physics was quite useful and helped her learn and understand the content to succeed. Megan says, "[Collaboration] has found its way into my work life where I enjoy working on a team and supporting my colleagues as we find solutions to new problems every day."
In her junior year, Megan an internship at a.i. solutions. In her first role she was assigned to the FreeFlyer® team. FreeFlyer is a.i. solutions' flight dynamics software used for space mission planning analysis and operations. Megan built regression tests that were designed to try to crash the program. This stress testing led to a more robust product with better error handling when new features are added.
Upon graduation, Megan started working for a.i. solutions' GSFC customer on the Aqua, Aura, and Terra Earth Observation Satellites as a Flight Dynamics Analysis planning maneuvers and analyzing the lifetime orbit of the mission.
"I was thankful to be hired full-time [by a.i. solutions] after graduation and continue my work of the Flight Dynamics Team," Megan says. "It's a fast-paced work environment, and a.i. solutions isn't shy about assigning responsibility to junior employees. I quickly moved into the technical lead position helping to organize the team around new missions."
Around the same time, Megan was given the opportunity to train for the Robotic Conjunction Assessment Risk Analysis team at GSFC. The CARA team analyzes possible collisions or conjunctions between two spacecraft or a spacecraft and space debris for NASA's non-human spaceflight missions. The team plans and executes any avoidance maneuvers necessary to mitigate the risk of collision. Now, 6-years later, she is the Operations Lead for CARA, and her responsibilities touch almost every aspect of that team.
"My current work as the CARA Operations Lead is diverse. I work in support of 70 different missions ensuring that NASA spacecraft do not collide with other spacecraft and debris in space," says Megan. "I also act as the Operations Subject-Matter-Expert and provide guidance to other operators when off-nominal situations arise."
During her time on CARA, Megan has revamped the CARA operators training program and trained twelve operators to do the work by developing and presenting three different training classes over the last few years, which concluded with the certification of 3 new operations in July 2019. Additionally, Megan works with new missions to ensure they are ready for launch and understand CARA processes and support activities. She represents NASA and the CARA team at conferences across the U.S. and the world. She has helped define operational requirements and best practices for conjunction assessments and co-authored a paper on CARA operations presented at the 2019 AAS/AIAA Astrodynamics Specialist Conference in Portland, Maine.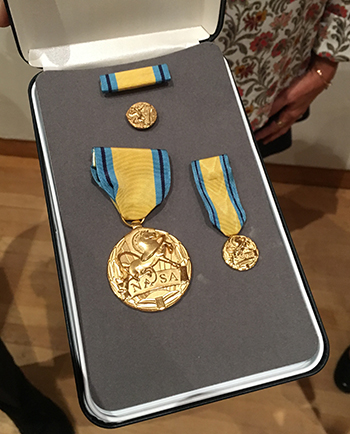 Megan success as a leader has come with hard work and dedication. When she began her career, Megan did not see herself in a leadership role until she was promoted and realized it was something she could do—and do very well. "Being nominated and receiving the NASA Early Career Public Service Medal made me feel that my hard work over the last 10 years was even more worthwhile. I have been given many challenges and opportunities to grow, and it was a great feeling to be recognized by my colleagues and customers," says Megan.
Megan and her husband welcomed their first child in November 2019. While she was expecting, she led the CARA operations team at GSFC, keeping NASA assets safe from collisions. Every day is an adventure for Megan as she continues to be fascinated by space exploration and her mission to keep space a safer place for future generations.
a.i. solutions is committed to making its electronic and information technology accessible to individuals with disabilities in accordance with Section 508 of the Rehabilitation Act (29 U.S.C §794d), as amended in 1999.